NASCAR CHARTERS Event 16
NASCAR CHARTERS 2023
Event #16 of the 2023 NASCAR Season
This weeks NASCAR Charters Event 16 this weekend is at 2 different up near St. Louis and out in Portland Oregon beginning this Thursday June 1st through Sunday June 4th flying out of our Hubs at MSP, DTW, MEM, PANC, EHAM, RJAA into KSTL & KPDX.
The Charter Routes are numbered NWA7000 - NWA7037. Pilots can fly any route we have in our system into KSTL & KPDX as well and get credit for the flight.
As always we will be awarding bonus hours to the top 3 pilots with the most flights and additonal bonus hours for the best landing rate below -100 fpm.
Lets have a Great turnout for this Memorial Day Weekends Event 16 of the 2023 NASCAR Charters Season up in St. Louis and over in Portland.
Posted By: Mark Toler on 06/01/2023
---
Rocky Top Roundup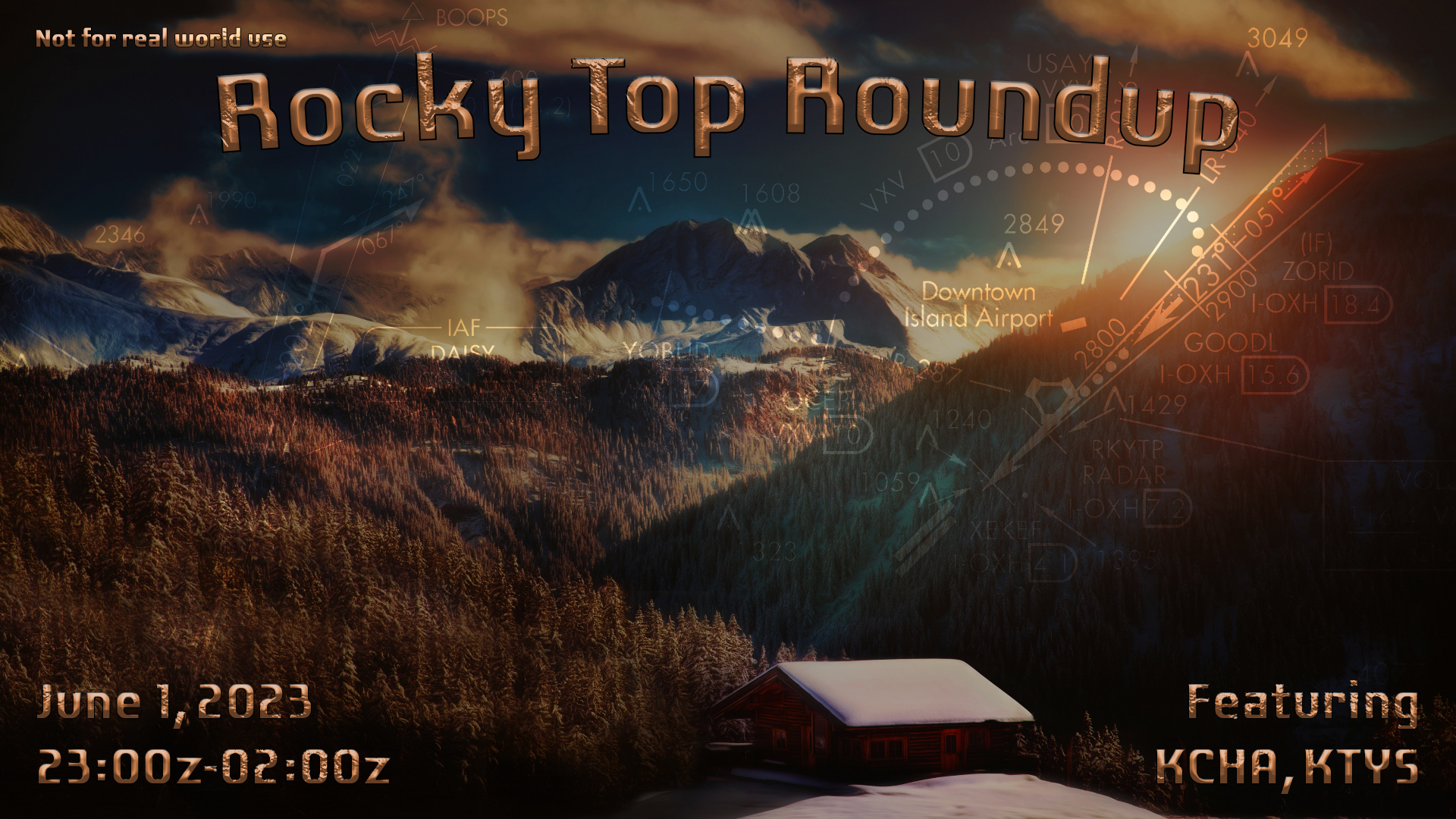 Did you know that the Smokey Mountains are called the Smokies because the mountain tops are always in the fog? Join ZTL in experiencing the smoke of the Smokey Mountains as we staff up Knoxville (KTYS) and Chattanooga (KCHA) from 23:00z to 02:00z.
Posted By: Mark Toler on 06/01/2023
---
NASCAR Charter Results
NASCAR CHARTERS 2023
Event #12 & 13 & 14 Results of the 2023 NASCAR Season
RESULTS TO COME!
Posted By: Mark Toler on 05/09/2023
---
PANC Cargo Operations
"ATTENTION vNWA PILOTS - PANC IS OPEN FOR PILOTS "
We are pleased that the Anchorage Hub is opened to staff Pilots for our Cargo Operations. If you would like to transfer from your current hub please send an email to virtualnorthwest@gmail.com . Be sure to tell you other Flight Sim VA pilot friends that enjoy flying Cargo to come join us at PANC.
Posted By: Mark Toler on 11/03/2022
---
Executive Flight Schedules
vNWA EXECUTIVE FLIGHT SCHEDULES
For anyone that would like to fly along with vNWA Executives, there are now tentative published schedules of vNWA Executives individual scheduled flights. These flights and times are tentative and subject to change. Feel free to contact the Executive for specifics if needed by clicking on the link below (KSTP Hub Website) or visit the KSTP Hub Website from the Hubs Tab at the top of the Homepage of the Website, to see when your Executives may be flying and you can join them.
So check out the schedules and fly with us .
(click on above link)
(updated 2/28/23)
vNWA Executives
Mark Toler - NWA1964 (TBA)
Chris Schiessl - NWA1223 (TBA)
Robbie Suwary - NWA1999 (TBA)
Posted By: Mark Toler on 02/04/2021
---
vNWA Hub Tour 2012-2022
vNWA Hub Tour 2012-2022
Get to know your fellow pilots, and their airspace. There is no specified time to complete this tour, have fun with it and see what you get upon completion. Click the Operations tab at the top of the homepage and click on "Tours" to get started.
Be sure to leave a comment indicating a leg of the Tour when filing your PIREP so we can credit you with each leg of the Tour.

Posted By: James Bishop on 01/30/2020
---
Buffalo Hunt Tour
Join in as NWA pilots visit the Northwest Territory to hunt the elusive green Buffalo in its natural habitat. WWII Piston powered aircraft only, these aircraft will help you camouflage yourself and be inconspicuous while on the Buffalo's home turf.
Be sure to see all the routing details and sign up for this tour and others in our "Tours" section by clicking on the link below.
Posted By: Mark Toler on 11/28/2019
---
MAPLE LEAF TOUR
The "Maple Leaf Tour" is a Tour of Canada designed by a Canadian Native and vNWA Event Manager, NWA1999 Robbie Suwary. This tour will consist of 14 Legs to airports that you may be familiar with and of course some that you have never heard of or flown to.

This tour is now "Active" and Pilots can sign up on the "TOURS" page under the "Operations" Tab on the Homepage of the website.
Be sure to check the Forums under "vNWA Tours" for all Tour information and to make post of your flown legs of the Tour.
Good Luck and Enjoy The "MAPLE LEAF" Tour
Posted By: Mark Toler on 11/20/2017
---